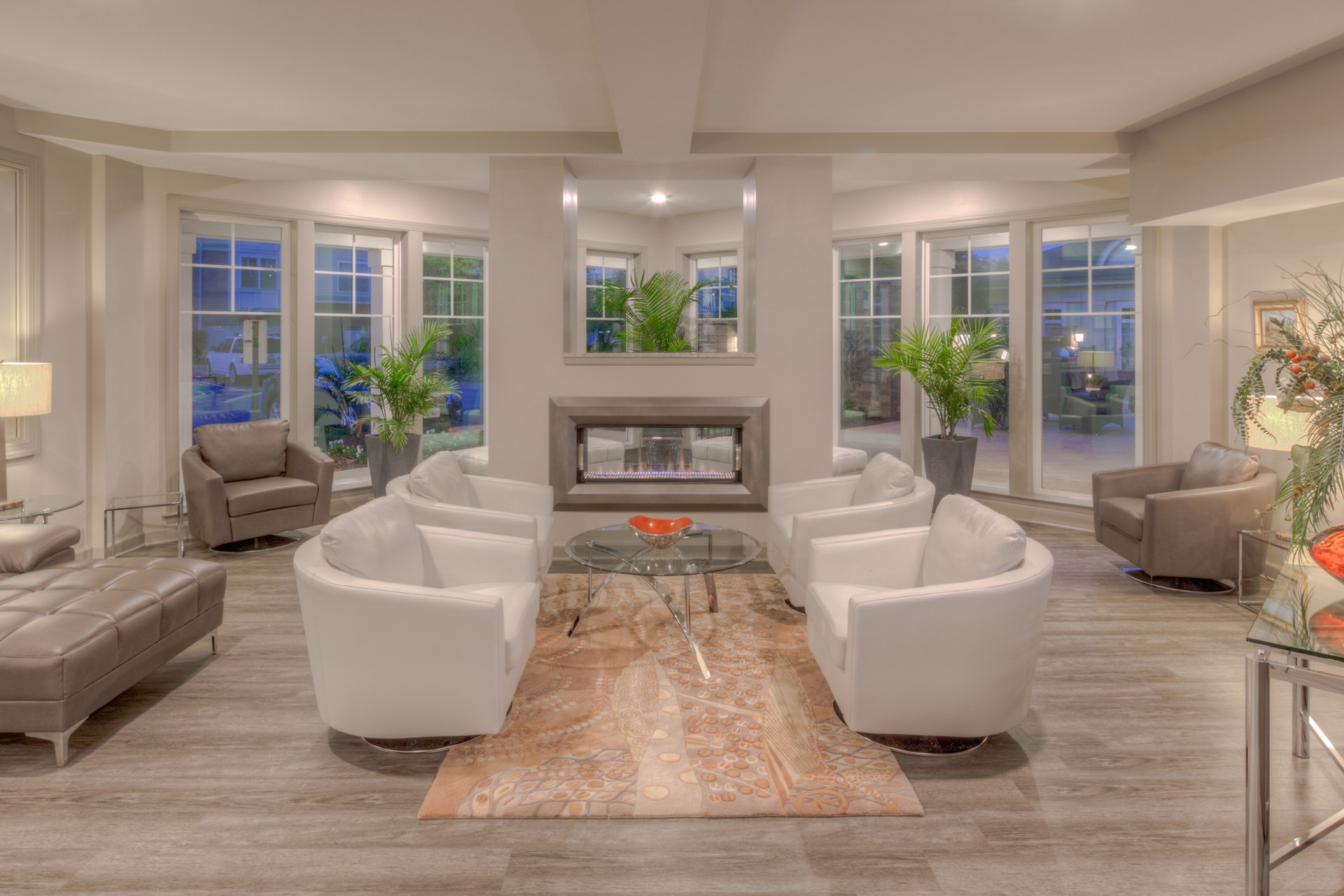 Your Review
Submit a Review

Resident Reviews
|Recommended: YesThis place is GOLD — We love everything about CovePointe I think my one minor issue is with the hall and elevator cleanliness and lack of vacuuming. I understand that it's a real big place and there is a lot to do, but it's among the first things that you see whether you're a guest or resident when entering the building. And please know this is not any critique - it's a suggestion, that perhaps that can be done first thing in the morning. Other than that - there is absolutely nothing wrong with CovePointe and the 2 ladies that are handling everything in the front office and the two gentlemen that work tirelessly doing there job to keep this complex working like a top.
|Recommended: YesCOVE POINTE AT THE LANDING IS PEACEFUL, CLEAN, QUIET, AND A GOOD BARGIN FOR HOW AMAZING THE UNITS ARE EQUIPPED. — I FEEL LIKE THE AREA IS VERY SAFE. THERE ARE TIMES THAT I AM LEAVING AT 5 AM OR GETTING IN AT 12 PM AND HAVE NEVER FELT UNSAFE. IT LIKE HOW CLOSE THE STORE, RESTAURANTS, BARS AND MUSEUMS ARE TO THIS LOCATION. YOU DON'T EVEN HAVE TO GET IN YOUR CAR TO GO OUT TO DINNER, YOU CAN JUST WALK DOWN COLEY. I HAVE FOUND THE CONDO'S TO BE VERY CLEAN AND QUIET. I RARELY RUN INTO A NEIGHBOR BUT WHEN I DO , EVERYONE IS VERY FRIENDLY.
|Recommended: YesGood — Good
|Recommended: YesMost excellent complex of apartments in all of Norfolk. — It's like a beautiful country town green. Management is high quality and timely thanks to Jessie and CeCe. Maintenance is superb thanks to Bobby.
|Recommended: YesExcellently managed. Beautiful complex. — Highly well managed by Jessie, CeCe and Bobby. Patty and Chris
|Recommended: Yes
A pleasant surprise — I have been very pleased these past few months in my new apartment here at Cove Pointe. The staff here is extremely friendly and helpful. Not to mention all of the amenities that are provided by our lease. Access anytime to an awesome gym and recreational area with computers, who can beat that Overall, there is nothing bad to say whatsoever about the staff and grounds, this place is AWESOME
Hi Dustin, Thank you so much for your kind words. We are so happy you love living at CovePointe At The Landings. We look forward to seeing you at our February resident event. Details coming soon!
|Recommended: YesPerfect place to call "Home" — After living and raising my family less than a mile from CovePointe, I knew exactly where I wanted to move when I downsized. The location along the water, the amnenities such as pool and clubhouse, along with large dog friendly apartments made this the perfect place for me to live. CovePointe is tucked away from busy streets and I am happy to hear the occasional footsteps overhead because because the sounds of the many varieties of water birds as well as the amazing summer days at the pool more than make up for it. Sandra, the property manager, has been great about listening to concerns and resident ideas to make this an even better place to live. My Golden Retriever gives CovePointe two paws up.
|Recommended: YesVery well maintained property, and friendly staff. — Very welcoming community, awesome grounds and facilities.
|Recommended: YesA wonderfully quiet, beautiful, low-stress place to live — A hidden gem right in the heart of Ghent with wonderful amenities and friendly neighbors and staff Cove Pointe is situated on a wooded portion of the Lafayette inlet with plenty of beautiful water views and low traffic noise. The water-facing views offer all-day observation of wildlife and cooling breezes from the ocean. The apartments themselves are tastefully appointed with stainless steel appliances, granite countertops, beautiful flooring with padded carpeting in the bedrooms, and elegant light fixtures and cabinets. Windows are covered with wood blinds that lend a nod to the coastal feel of this complex, and the walls are a warm, light taupe beige that calms the mind and accentuates artwork beautifully. Ample buffering in the between-unit walls, floors, and ceilings minimizes sound transfer, making it very unlikely that you will hear your neighbors at all. The staff is very friendly and responsive, and the club house is well-appointed with a full kitchen, work-out area, sitting area with fireplace, Internet cafe, and even a coffee bar The swimming pool is relaxing and secluded, a great place to spend a relaxing afternoon or evening after work. Cove Pointe is within easy walking distance of some great Ghent restaurants on Colley Avenue, as well as nearby Old Dominion University. A short drive into Ghent yields access to grocery stores, pharmacies, and other necessities. All together, a wonderful place to live
|Recommended: YesPeaceful Easy Feeling — I'm writing this review from my deck as I overlook the quiet branch of the Elizabeth River I call home. A heron is perched on a rock down below and the view is spectacular. Everything in my apartment is top of the line and I have to pinch myself from time to time to remind myself that this is home and not a vacation getaway. With the pool, yoga studio, workout room and espresso machine downstairs, I can go for days on end without ever leaving the property. The landscaping of the property was beautifully planned out, but needs a bit more tending if it is going to continue to flourish, especially the areas directly adjacent to the water. It is beginning to get overrun by weeds and the gorgeous hydrangeas have been burnt by the sun without daily watering. Even so, CovePointe is by far the most beautiful and comfortable apartment complex I have ever seen. So glad we got rid of the house and made the move to maintenance-free living Office staff is super friendly and quickly responsive.
|Recommended: YesFantastic up scale community in a wonderful location — Beautiful views of the water, great location off of Colley, quality construction and friendly and helpful staff
|Recommended: YesCovepointe service — Service is quite good
|Recommended: YesI am happy to call Cove Point "Home" — I grew up and later raised my own children in this neighborhood. Making the decision to downsize wasn't easy but after touring Cove Point, I knew I had found a perfect place to call home. I love all of the closets, stylish kitchen, and huge master bathroom. Cove Point staff have always been willing to listen to my concerns and find answers to questions. I am thrilled that they allowed larger dogs, I have a Golden Retriever. Between the pool, waterfront walkway, exercise center and close proximity to some of Norfolk's best restaurants, it is almost impossible to be bored living here. I know we had a tough long winter and I am hoping Cove Point will begin replacing mulch and flowers as the warm weather comes.
|Recommended: YesBeautiful property — It's generally very quiet, which is great. There's a beautiful walking path right along the water, which is great if you have dogs. The apartments have up to date appliances and features. There are no huge issues with cove pointe. I really like it here.